Michael W. Smith: August 3, 1978 - November 14, 2019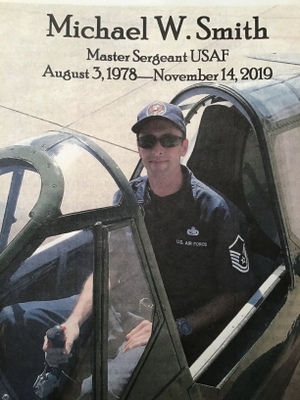 Remembering Mike
The Majors Field Flying club is based at Majors Field in Greenville, TX and not so coincidentally, is on the same airfield as L3Harris. We are a fairly small club with seventy members of which about twenty are pilots. We own and maintain two airplanes for use by the pilots of the club and around two thirds of our membership have an affiliation with L3Harris as either an active employee or as a retiree. We mention all of that to highlight what a natural fit it was for Mike, an employee of L3Harris, a pilot, and an Airframe and Power plant mechanic, to be a member of the club. What more could someone ask for than to be able to roll out of the parking lot at work, drive a mile south, and jump in a club airplane and go flying! What more could a club ask for than to have Mike as one of its members.
Mike joined the flying club in March of 2017 and it didn't take long for him to make an impression. At one of the first events he attended, which just so happened to be an airplane Wash & Wax party on March 10, 2017 and probably before he ever flew a club airplane, while sitting around after all the work was done and enjoying a little fellowship over lunch, someone noticed the nose wheel tire of the Cessna had gone flat. Our club mechanic was not around and the plane was scheduled to fly that afternoon. Mike, who most of us had just met that morning, offered to make the repair so that the plane could be flown that afternoon. So, no more than ten days after he joined the club and probably before he had even flown a club plane, Mike showed up to help wash and wax planes he had never flown, took a break to get some lunch, and jumped right in to repair one of our planes. We didn't know it at the time, but as we would learn, that was not unusual behavior for Mike.
In July of this year, several members of the club organized a trip to THE airshow, Airventure 2019, in Oshkosh, WI. Mike and two other members flew the club's Piper Archer and two associate members each flew their own airplanes and carried club members with them. We had a total of nine folks from Majors Field and the flying club and we met up with several other local friends of the club while we were in Wisconsin. Seven of us from the club shared a very nice rental home for four nights while we walked our legs off for three days on the grounds at Oshkosh. The shopping trips to the local Walmart were something to behold! On one of those days at Oshkosh, Mike pointed out a very complicated looking, award winning aircraft, and in his low key, unassuming way, casually mentioned it as one of the aircraft on which he had performed an annual inspection. We were getting to know Mike a little bit better each day. The trip was memorable for several reasons, one of which was getting a chance to get to know Mike a little bit better. To say that we were blown away to hear about his service on Air Force One and to see the pictures of him shaking hands with two different President's, including pictures in the Oval office, is to put it mildly. His low key, unassuming persona belied all the success he had in his Air Force career and it wasn't something he just blurted out or bragged about. It doesn't get more prestigious than to be selected to be a member of the Air Force team that is responsible for maintaining the Presidential airplanes. It was taking a while, but we were getting to know Mike a little bit better.
In August of this year, Mike was offered and accepted a position on the Majors Flying Club Board of Directors as the Maintenance Officer. The club was very fortunate to have a person with so much integrity, experience, interest, and knowledge about airplanes overseeing our maintenance operations. The most telling thing about Mike from the club's perspective is that he brought the same integrity, knowledge, and attention to detail that we assume he gave to the Air Force One fleet, to our general aviation Cessna and Archer club airplanes. We were having intermittent issues with a piece of gear on our trip to Oshkosh. Just guess whose long legs were hanging out of the airplane and whose head was under the instrument panel at one of our fuel stops!
While our loss as a club is nothing compared to the loss suffered by his family, Mike will still be missed by our club and its members. He was a good pilot, always ahead of the airplane and planning miles ahead, and we will miss having the chance to fly with him again. We will miss his integrity and the knowledge he possessed about airplanes and we will miss the chance to gain some of that knowledge from him. We were getting to know Mike a bit more each day, and we will miss the chance to grow that friendship.
But as this is a celebration of his life, we want to emphasize that we are all very thankful for the time we got to spend with Mike and for the friendships we had developed with him. He was a good man whose low key and unassuming personality hid a gem of a person you would be rewarded for getting to know.