Enroll
MAJORS FLYING CLUB ENROLLMENT PACKAGE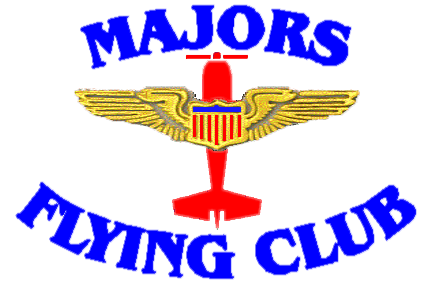 This page contains enrollment information and an application for the Majors Flying Club.
If you are interested in becoming a member of our flying club, please follow these instructions.
Read the Introduction to the Club, the club By-Laws and the Majors Flying Club Operating Rules (Rev J). The Introduction will get you going on who we are and points of contact. Please call Dennis Mathis or any board member shown in the Introduction with questions you might have.
This would be a good time to take the open book Quiz.
Fill out the Application and, if you are already a student or licensed pilot, attach:
     a.  Photocopies of the last 3 filled-out pages of your logbook and
     b.  A copy of your current FAA medical.
Place your name on the membership Checklist.
Read and sign the Covenant Not to Sue form, and have it notarized.  The Credit Union will do it for free if you are a member, or check with your bank.
We prefer that you arrange with the Service 1st Credit Union, or your bank, to have regular biweekly or monthly payroll deductions transferred to the Majors Flying Club account.  If you prefer to use your own bank to autopay to the club account at the credit union, please contact the club Treasurer Byron Finney (903-457-7238) for the account information.


You can also pay by check monthly but it is not preferred. Manipulating checks each month causes our treasurer more work which is contrary to keeping our costs down.




To pay dues by check, please pay at least 6 months in advance.

Paying for 6 months in advance will get you a $50 flying credit.
Paying for an entire year in advance will get you a $125 flying credit.

Put the following in an envelope:

Checklist
Application
Quiz
Notarized Covenant Not To Sue.
Any copies of Medical Certifications or logbook pages
A check for the appropriate Initiation Fee. Please note that, if you are not a member of the E-Club, a $500 refundable account retainer is also required when your application is submitted.
A check for any amount you wish to pay for club dues in advance.
Address the envelope to:

Mark Armstrong, CBN 176
L3Harris ISR Greenville
PO Box 6056
Greenville, TX 75403-6056
Mark will track your application approval process and let you know when you are good to go.

You may also contact Mark or the president directly with any membership or club questions.

Mark Armstrong
Chief Pilot/Safety Officer
W (602) 361-8692

Dennis Mathis
President
W (903) 461-5725

Please note that aircraft rental rates change regularly due to changing fuel prices. Current rates for the Archer and the C150 are shown on the Airplanes page. Other membership information is shown on the Membership page.