19 July 2019 - Robert McEnaney - Private Pilot
PRIVATE PILOT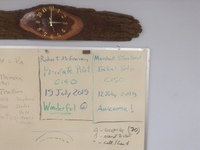 We are happy to announce that Robert McEnaney successfully completed his Private Pilot Practical test on 19 July 2019. Congratulations, Robert. Congratulations to his instructor, Dennis Mathis, as well. Well done gentlemen !!
I am pleased and proud to announce that Robert McEnaney completed all the requirements Friday evening to obtain that coveted piece of paper "Temporary Airman Certificate ". He'll be getting the permanent private pilot certificate in the very near future.
It has been a long and sometimes tortuous path for Robert to achieve his dream of becoming a private pilot. Dogged determination and a "never give up" attitude paid off.
Welcome to the ranks of a very exclusive club, Robert !
Dennis Mathis
SOLO FLIGHT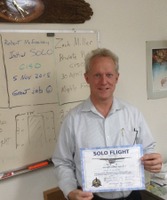 Robert McEnaney soloed the Cessna 150 on Monday, November 5, 2018. His instructor, Dennis Mathis, remarked "It is with a great deal of pleasure (and a little relief) that I announce that Robert B. McEnaney did fly the Cessna today without his instructor aboard. HE SOLO'd !! He did a pretty fine job and the aircraft appears to be usable again. Congratulations Robert. Well Done!!"