01March2018 - Tyler Sanders - Private Pilot
PRIVATE PILOT:
Tyler successfully completed his check ride for his Private Pilot certificate today, Thursday, March 1, 2018, despite the sale of the plane he trained in and postponed check ride dates! Well done Tyler.
Congratulations to Don Reeder for shepherding another one through the private pilot wickets.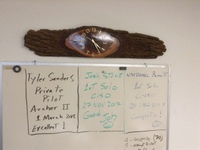 SOLO FLIGHT:
On the morning of Friday, June 30, 2017, unbeknownst to other pilots in the pattern at Majors Fields in Greenville, TX, one each Tyler Sanders was let loose at the controls of the Harvest Aviation Cherokee 140 for his FIRST SOLO flight. As you can see from the photos provided by his instructor Don Reeder, Mr. Sanders is sporting the very recognizable and not uncommon "post-solo grin". Tyler was a student in the Majors Flying Club 2016 Ground School class and is taking advantage of the flight training offered through our flying club to qualified club members.
Congratulations Tyler on the singularly unique milestone of every pilot working toward their private pilot certificate.
Well done Mr. Reeder. Two student solo flights in the same week of the same month. That might be a first for the club. Now stop it, I am tired of updating the website!