Ground School - Spring 2021
New Private Pilot Ground School begins February 4, 2021
Have you ever thought about learning how to fly? Here's a great opportunity to get started...
The Majors Flying Club will be offering a Private Pilot Ground School beginning February 4, 2021. Classes will be held for 14 consecutive weeks through May 6, 2021 from 5:30 to 8:30 pm in the L-3Harris Recreation Hall in Greenville, Texas unless otherwise restricted due to issues with the pandemic. The back up plan in that case would be to conduct the classes online via Zoom.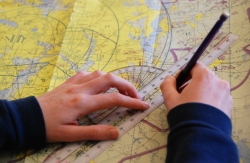 The Private Pilot Ground School is designed to help the student learn the basics of aviation and to pass the FAA Written Exam which is required for the Private Pilot Certificate. The ground school instructors are highly qualified and experienced pilots who are FAA certified instructors. During the course of the ground school, the following topics will be covered:

Airplanes and Aerodynamics
Airplane Instruments, Engines, and Systems
Airports, Air Traffic Control, and Airspace
Federal Aviation Regulations
Airplane Performance and Weight & Balance
Aeromedical Factors and Aeronautical Decision Making
Aviation Weather and Aviation Weather Services
Navigation: Charts, Publications, Flight Computers
Navigation Systems
Flight Planning
This course is open to the public. There is no obligation to join the Majors Flying Club to attend this course nor is there a requirement to take flying lessons.
Registration is open until January 28. The course fee is only $469 and includes a full set of course materials (books, plotter, E6B "whiz wheel", etc.). A minimum deposit of $150 is due by January 28. The remainder is due on the first day of class.
To pre-register for the class without any obligation send an email to webmaster@majorsflyingclub.org. Please make 2021 Ground School the subject and include your full name and telephone number(s) in the email.
To talk with one of the instructors about the ground school, please contact Dennis Mathis at (903) 461-5725 or Mark Armstrong at (903) 457-6195.